A Little Hedgey Buddy
by Sharleen
(Norway)
The first photo here is of a hedgehog, in case you've never seen one. They are also not that easy to get shots of. Usually nocturnal and very shy. They make funny grunting noises as they rummage through the mulch. They are good to have in your garden because they eat small slugs(which are a major problem here) and because they also keep snakes away. Otherwise they are cute! they are cousins to porcupines but much the size of small possum and are on the recline because of roadkill which is utterly sad.
Charlotte's Web was a book I can remember being very fond of as a child. And Winnie the Pooh (which by the way is called Ole Brumm(Broom) in Norwegian--!)is also a deep favorite.
I grew up learning from my father's sense of humor about animals and the philosophical quips they might come up with, being observers of the human comedy! I don't remember ever having heard of Beatrice Potter, until later in life, in so far as references to hedgehogs.
They really ARE incredible little creatures! And difficult to get on camera. Not that they are so incredibly fast, but because they are just really, really shy!
I found one last July, I think it was, under some bushes. They make strange little grunting sounds that I can only describe as something between a micro-pig and crackling paper. (I also know this because my darling boys, who have grown up in spite of me, tried to hide one, once, in a shoebox and put it out in the storeroom before they left for the weekend.! I stood in the kitchen and wondered if I was losing my marbles, because I kept hearing this SOUND--!)
Anyway, these are three little shots of a hedgehog. It first went into cocooning position when I found it and tried to get it more in the light to take its picture.
And those quills ARE sharp!
Then, I figured I'd just take the shot with whatever lighting and hope for the best.
Afterwards, I went and sat out in the sun and the little guy came all along the veranda and across and "waddled"? "moseyed"? on down and around into the abandoned doghouse, where the stray cat usually sits when it rains. So I got these other takes.
Hope you enjoy them...excuse the spontaneous junk in the background! I was so amazed to get these shots at all that there wasn't much time to "clean up shop"! LOL
Probably it never would have ventured this tour without all the "stuff around" anyway. You may have to zoom in to enjoy the cartoon-ish like feet and the whole character of the little creature. ENJOY!
Join in and write your own page! It's easy to do. How? Simply click here to return to Pictures of Nature.
Mouse Bed and Breakfast :)
by Debbie
(North Bay, Ontario)
We found this little guy (obviously not a bird) in our bird feeder one morning, snoozing away the day. Apparently hungry the night before, it looks like he ate so much that he couldn't get back out through the hole he came in through!

I was able to get this shot of him just before he darted out through the roof that we lifted for him.

Several days later, guess who was found napping in the bottom again?
Join in and write your own page! It's easy to do. How? Simply click here to return to Pictures of Nature.
Flowering Dogwood
by Kate
(US)
This flowering dogwood picture is an excellent example of capturing depth of field in a close up. The beautiful pink flowers appear to go on forever from the closest petal to the end of the yard.

Kate says, "Yes it is a flowering dogwood in my yard. I love taking photos of all the world around me. The camera is so much fun to work with. My husband and I are hoping to purchase a better camera since I love to photo everything. I used close-up setting for this photograph. We have 3 dogwood trees of pink in the front yard and one white dogwood in the back yard."

Congratulations Kate on a beautiful photograph. It looks almost as if you could reach up and touch those brilliant pink blossoms.

Here's an interesting little note I found in Wikipedia. I've often wondered about this old story and the connection with Jesus. I'm not sure how true it is but it does make for interesting reading.

The legend of the dogwood

There is a Christian legend of unknown origin that proclaims that the cross used to crucify Jesus was constructed of dogwood. As the story goes, during the time of Jesus, the dogwood was larger and stronger than it is today and was the largest tree in the area of Jerusalem. After his crucifixion, Jesus changed the plant to its current form: he shortened it and twisted its branches to assure an end to its use for the construction of crosses. He also transformed its inflorescence into a representation of the crucifixion itself, with the four white bracts cross-shaped, which represent the four corners of the cross, each bearing a rusty indentation as of a nail and the red stamens of the flower, represents Jesus' crown of thorns, and the clustered red fruit represent his blood. (Look up "dogwood" in Wikipedia to read the complete article)

Thank you Kate for submitting this beautiful flowering dogwood.
Join in and write your own page! It's easy to do. How? Simply click here to return to Pictures of Nature.
Tree Frog Pictures
by Darlene
(Wheeling, WV, USA)
My morning walks are becoming quite interesting. Here are a couple of tree frog pictures I thought you and your readers might enjoy. Notice how on tree frogs you can see suction cups on their feet to hold them in place while climbing trees and blades of grass?


Join in and write your own page! It's easy to do. How? Simply click here to return to Pictures of Nature.
Potted Hedghog
by Sharleen
(Norway)
This little hedgehog thought he found a place to hide. I don't think he was expecting me because he instantly went into a fake sleep. This is one of their defense tactics which is common to the possum family that he belongs to. The flower pot shows how big he really is. Poor little creature. He's faking he's asleep.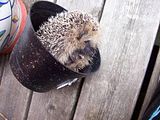 One little stretch and he looks almost like a cactus plant knocked on it's side.

Click on the thumbnail to your left and you can see a bigger picture. If I didn't know better I would say this guy was a porcupine. I guess they all belong to the same family.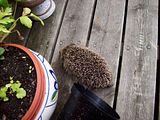 Might as well go out for a stroll since the fake sleeping didn't work.

Notice how tiny he is compared to the potted plant he is sneaking behind.



You have to admit though, he is charming, even in the drabbest of cubbyholes!

This picture shows a better view of his eyes and nose. And you can see the resemblance to his cousins. Possums also have that pointy nose.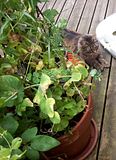 Well, Flussy thought the whole adventure was absolutely fascinating!!!

Flussy is a member of my family. Well she decided she liked it here so we take good care of her. And in turn she gets to enjoy all the birds and wildlife that come to visit.

What a wonderful life to live. Remember each photo is a thumbnail and you can click on them to see the bigger picture.

Thank you,

Sharleen



Join in and write your own page! It's easy to do. How? Simply click here to return to Pictures of Nature.
Winter Magic
by Sharleen
(Norway)
Winter can be a very magical time. Notice how these snowflakes sparkle and shine in the dark. Winter in Norway can be a very wonderful place. Enjoy this slide show as Sharleen tells her story with humorous captions...


Join in and write your own page! It's easy to do. How? Simply click here to return to Pictures of Nature.
Midnight Sun
by Sharleen
(Norway)
Imagine going outside at midnight to read a book. This would be the perfect place to live if you are a night owl. But perhaps not the most ideal location for those who like their sleep at night.

Norway is the place known as the official place to be able to see the sun during summer 24 hours a day. Depending on the area you visit you can capture this midnight sun from May through August.


Book Under Natural Midnight Sun Light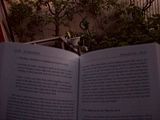 This was taken from my back porch in June.
Nature Observation and Photography
by Brian Mertins
I'm a wildlife tracker, which means I practice the art of finding animals by looking at patterns on the landscape.

Sometimes that means looking at tracks on the ground, but more frequently it's the birds that tell me where the animals are sneaking away from me.

Good observation of nature can lead to some really cool wildlife encounters and photo opportunities.


A Barn Owl Story
One time my observations of a pair of robins led me to discover a barn owl roosting near my house.
The robins had their nest in a big Douglas fir tree in my backyard. I noticed on this particular day that they were making an unusual amount of noise.
They were in the area of their nest but they kept going over to a nearby cedar tree all the while freaking out and making alarm calls.
Their behavior was really bizarre so I decided to figure out what was going on.
There was a cycle and a rhythm to the way they were vocalizing. At times they would fly off into the bushes and the alarming would stop.
A few minutes later they would both come back with worms in their mouths.
When they got back to the nest they would start freaking out again except that the sound would be a bit muffled because they had worms in their mouths.
Then they would take turns feeding the nestlings. While one fed, the other would continue alarming and then they would switch.
This went on for hours and hours!
It was incredible to watch and I was thoroughly convinced that there was something going on.
So I went out with my binoculars and got in close. I tried to see through the thick branches but I wasn't finding anything.
Finally my persistence paid off. After many minutes of searching and almost giving up, I spotted a sneaky barn owl about half way up in the cedar tree.
It was in plain sight but I could only really see through to where it was from one particular spot in the backyard.
It was so amazing to have all that observation pay off. The barn owl just sat there all afternoon so I was able to take some cool pictures.
Observation skills
Everyone has the ability to make good observations. It's really simple.
All you have to do is practice slowing down, watching and listening. The more you do it, the easier it gets.
Sooner or later your observations will lead you to something really cool. Whether it's a great photo opportunity, or a great story.
My adventures as a wildlife tracker have led me to cool encounters with animals like hawks, owls, bobcats and even mountain lions (that was scary).
Having a connection to nature definitely compliments nature photography.
If you want to learn more about developing your skills of awareness you can check out my website at
www.nature-awareness.com
.
Until then,
Keep clicking those nature photos!
Brian
owner / publisher:
www.nature-awareness.com
Join in and write your own page! It's easy to do. How? Simply click here to return to Pictures of Nature.
---
A portion of all proceeds from this site are donated to St. Jude's. If you are looking for a place to give, I highly recommend this hospital. Your own personal donations may be made by clicking on this banner.