Tips and Tricks For Taking The Best Nature and Flower Pictures You Have Ever Taken
Hi

Welcome to Nature Tales, the newsletter with insider tips for getting the most from your nature photographs. We will be sharing some of our secrets and strategies for better pictures and some don'ts for those not so good shots.

If you like this e-zine please do a friend and me a big favor and forward it to them.

If a friend did forward this to you and if you like what you read, please subscribe by visiting here here.


July 25, 2008 Issue #19
"A special note: All links in this newsletter open in a new window. If you try to open one and it doesn't work, try holding down your [ctrl] key and enter at the same time."
---
Table of Contents:
Taking Flower Pictures Tip #4 The Right Angle


Wisdom Flash - Spiritual Wisdom


Nature and Flower Pictures - What's New


Latest Download - Make Your Knowledge Sell

Comments? Do you have a story you would like to see here?

Feedback? Let me have it, right between the eyes! I'd love to hear from you. Just reply to this zine and tell me what you think! Or you can use our contact us form here to send your comments.

The world is like a mirror, frown at it, and it frowns at you. Smile and it smiles, too. -- Herbert Samuels

---
Landscape Photos With Your Point And Shoot Camera
Imagine you're out walking in a beautiful park. And there in front of you is a gorgeous scene. Like one day we were walking at a Riverwalk in a neighboring town.
There in front of me was an old rustic pavilion on the river surrounded by beautiful flowing willows. There were canadian geese walking around. It was the perfect picture. So I pointed my camera, took the shot and we continued on our walk.
It wasn't till I got home and loaded that beautiful landscape shot onto my computer that I noticed the ugliest of trash cans right in the middle of the scene. It was actually in the perfect position if you wanted it to be the main focus! The perfect landscape photo gone forever.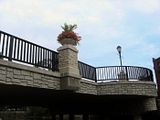 Sometimes you luck out and get a good angle. Other times you capture way more junk than you intended. Don't let this happen to you. Follow along with these tips for taking beautiful landscape photos.
How to Take Beautiful Landscape Photos Using a Standard Point and Shoot Camera
Landscape photography is a great place to use creativity, and unique perspective, even if presented with a flat or unchallenging image. For example, you are on a road trip, you read the road sign that says "Scenic Overlook"; you pull in, get out the camera, hold it at eye height and take the picture. It is scenic; you shouldn't have to compose the image, right?
Wrong.
Photographing landscapes and scenery should be a creative experience, even with a point and shoot camera. Look at the image, analyze it, look at it a different way, climb up on a picnic table or lay down in the grass, and experience the view through your own perspective, then capture that with your camera.
See you next Friday when we will cover A Few Technical Considerations.
If you would prefer reading the entire article now, you can find it here.
---
Wisdom Flash - Sonia Choquette: YOUR INTUITIVE VOICE
Have you noticed how fast our world is changing? Everyday I see a bright new beginning. People are awakening every day in every way to the joy all around them.
In all the rush and hurry please take a moment to just breath. It is with this breath of light and love I share with you this beautiful wisdom flash from Sonia Choquette.
Your Intuitive Voice (opens in new window)
What's New With Nature and Flower Pictures
This week appears light in the new pages area with only an update of the home page and the Nature Landscapes article. But wait till you see what is in store coming up. I have in the works a whole section of Daisy Pictures. Look for at least the beginning next week.
New look and feel for the site. Be sure and check out the new fresh look. Tell me what you think. Can you feel yourself breath with the clean open space?
---
This Weeks Top Pick - Powerful Landscape Photography
This e-book is not a free download but it is well worth the small investment you will make. Written by my favorite photographer, and teacher Amy Renfrey, you will find some wonderful ideas for perfecting your landscape photography
As a matter of fact this weeks newest addition to Nature and Flower Pictures is an article written by Amy herself. Pictures are taken and contributed by me but the article is only a sample of this photographers style.
---
Copyright © 2005 - 2008 by Sally Stoneking, All rights reserved.
This publication is for informational purposes only.