Tips and Tricks For Taking The Best Nature and Flower Pictures You Have Ever Taken
Hi

Welcome to Nature Tales, the newsletter with insider tips for getting the most from your nature photographs. We will be sharing some of our secrets and strategies for better pictures and some don'ts for those not so good shots.

If you like this e-zine please do a friend and me a big favor and forward it to them.

If a friend did forward this to you and if you like what you read, please subscribe by visiting here here.


January 16, 2009 Issue #33
"A special note: All links in this newsletter open in a new window. If you try to open one and it doesn't work, try holding down your [ctrl] key and enter at the same time."
---
Table of Contents:
Photo Tip - Macro Photography - Play With Brightness


Nature and Flower Pictures Blog- Featured Articles


Wisdom Flash - Terri Amos-Britt - Spiritual Warrior


Image Download - Evening Sunset at Low Tide

Comments? Do you have a story you would like to see here? Feedback? Let me have it, right between the eyes! I'd love to hear from you. Just reply to this newsletter and tell me what you think!
---

All truth passes through three stages. First it is ridiculed; second it is violently opposed; and third it is accepted as self-evident...Arthur Schofenhauer

---
Play With The Brightness on Your digital Camera
Play with the brightness - One really handy tool on some models of point and shoot cameras is the light meter. This tool is only available in manual mode. I use the Canon S5 IS for taking the pictures you see on Nature And Flower Pictures.
It is true that the most creative pictures can be taken when you have your camera set to the manual mode. Not all point and shoot cameras come with this mode though. And not all cameras will have a light meter built in. But you can play with the f-stop that shows in the bottom of your display to create the same effect.
My old camera was not as easy to adjust the light settings as this new one. Many people are hesitant to try manual settings on their camera. If you're like me you just want to point and shoot, right?
So if you don't want to use manual mode to adjust the brightness of your picture, it can wait till you upload your photograph. Use your photo editor to enhance the photo to look the way you remember it. Sometimes those photos will even look a little better. I find that if I lower the brightness, and raise the contrast, I get some very impressive results.
Macro photography may seem a little hard at first but the rewards are well worth the effort. I hope these tips will help you to bring nature into a close-up focus. Enjoy those beautiful wildflowers, roses, daisies and more in a different light.
---
Wisdom Flash - Terri Amos-Britt - Spiritual Warrior
This video is an awesome meditation. Explore your strength and open to the truth that you are.
By Terri Amos:Spiritual Warrior Enjoy!
Terri is one of the many speakers that will be a part of the big event I told you about this week. She is a former Miss America who discovered a better way. She now teaches "The Enlightened Mom" seminars and Weekend Intensives.
---
Featured Articles
The journey continues as we explore a few aspects of our world. I challenge you to expand and explore a different view.
---
Download - Sunset at Low Tide Image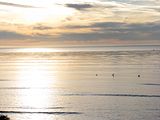 In December I visited my grandchildren in California. I was lucky enough to have a day when the low tide was at just the right time of day for pictures. This sunset is one of the many shots I got. Enjoy and for a just this week you can enjoy a full set and read about the visit here Low Tide at Sunset Cliffs. Smaller versions of these images will be available to subscribers after this week. Just use your password to get into the photo gallery if you miss the chance to see them here.
---