Tips and Tricks For Taking The Best Nature and Flower Pictures You Have Ever Taken
Hi

Welcome to Nature Tales, the newsletter with insider tips for getting the most from your nature photographs. We will be sharing some of our secrets and strategies for better pictures and some don'ts for those not so good shots.

If you like this e-zine please do a friend and me a big favor and forward it to them.

If a friend did forward this to you and if you like what you read, please subscribe by visiting here here.


August 1, 2008 Issue #20
"A special note: All links in this newsletter open in a new window. If you try to open one and it doesn't work, try holding down your [ctrl] key and enter at the same time."
---
Table of Contents:
Nature Landscapes - Technical Methods


Wisdom Flash - John Holland Psychic Navigator


Nature and Flower Pictures - What's New


Latest Download - Powerful Landscape Photography

Comments? Do you have a story you would like to see here?

Feedback? Let me have it, right between the eyes! I'd love to hear from you. Just reply to this zine and tell me what you think! Or you can use our contact us form here to send your comments.

My opinion is a view I hold until... well, until I find something that changes it. -- Luigi Pirandello

---
Nature Landscapes - A Few Technical Considerations
Landscape photography does demand a few technical considerations and methods to keep constantly in mind. The first is to capture as much of a scene as possible in the landscape, so increase depth of field by decreasing aperture. This will affect lighting, so a photographer must take that into consideration by setting to a slower shutter speed, which leads to the next landscape suggestion: use a tripod. It is a good idea when taking landscape images to keep a tripod on hand as many images will require a slower shutter speed and the integrity of the image will only be maintained by a completely still camera, not held in the hand of a photographer who may shake and ruin the exposure.
How to Use These Methods
Increasing your depth of field is accomplished by raising the F number in your camera settings. This is called the F-stop. Your point and shoot camera will need to be in manual mode. And the number you want to increase is the one with an F next to it. On my camera this is done by pressing the omni selector left or right. Your selector may be called something else. Refer to your manual.
Shutter speed is the other number at the bottom of your display. In my case this same selector button is pressed up or down. To allow in more light you would decrease this number.
You should be able to see your display on your camera change as you play with these settings. Don't worry. You are not doing anything that will change your auto settings.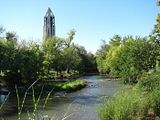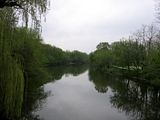 And the nice thing about point and shoot cameras is that they will do most of this decision making for you when they are in automatic mode. The examples in todays newsletter were all shot in automatic mode. I didn't even use a tripod.
Speaking of tripods. You can pick them up at Wal-mart for a very reasonable price. I have a small one that I do use on occasion. I paid around $20.00 for it. I admit it isn't professional, but it serves my purpose. The nice thing about photography is you can spend as little or as much as you want. But your creativity will always be with you.
See you next Friday when we will cover Find A Focal Point.
If you would prefer reading the entire article now, you can find it here.
---
John Holland: Psychic Navigator - Harnessing Your Inner Guidance
Today I was talking to one of my children and she expressed to me her hesitation in exploring issues like channeling. This got me to thinking.
How do we deal with our spiritual selves? I have always thought of myself as a spiritual person. But I have not always thought of myself as a spiritual being.
My children are grown now with children of their own. And like so many of us "empty nesters" I started looking for ways to fill that space in my heart after they all left to be on their own.
My choices lead me on a path of enlightenment, you might say. And I found very soon that the leap from being a physical being who is spiritual to realizing that we are all "Spiritual beings having a physical experience".
As John Holland author of Psychic Navigator says you are "physical, emotional, mental and spiritual". This weeks wisdom flash is a beautiful rendition. Enjoy!
Psychic Navigator (opens in new window)
"Stay balanced and honor all of you."
---
What's New With Nature and Flower Pictures
This week is the beginning of building and adding pages to the Daisy Pictures section. This is one of those times when you, my E-zine readers get an early sneak peak. Here are the new pages so far.
Aster Family Flowers are a part of the daisy or composite family. Enjoy these aster flowers pictures.
Black-Eyed Susan Come see black eyed susan pictures the whole family will enjoy. Black-eyed susan are members of the composite family of flowers.
Sunflower Pictures and the benefits you gain from these lovely flowers. Growing sunflowers for pictures fun and health.
---
This Weeks Top Pick - Powerful Landscape Photography
This e-book is not a free download but it is well worth the small investment you will make. Written by my favorite photographer, and teacher Amy Renfrey, you will find some wonderful ideas for perfecting your landscape photography
As a matter of fact this weeks newest addition to Nature and Flower Pictures is an article written by Amy herself. Pictures are taken and contributed by me but the article is only a sample of this photographers style.
---
Copyright © 2005 - 2008 by Sally Stoneking, All rights reserved.
This publication is for informational purposes only.