Tips and Tricks For Taking The Best Nature and Flower Pictures You Have Ever Taken
Hi

Welcome to Nature Tales, the newsletter with insider tips for getting the most from your nature photographs. We will be sharing some of our secrets and strategies for better pictures and some don'ts for those not so good shots.

If you like this e-zine please do a friend and me a big favor and forward it to them.

If a friend did forward this to you and if you like what you read, please subscribe by visiting here here.


September 12, 2008 Issue #24
"A special note: All links in this newsletter open in a new window. If you try to open one and it doesn't work, try holding down your [ctrl] key and enter at the same time."
---
Table of Contents:
Photo Tip - Nature Landscapes at Dawn And Dusk


Wisdom Flash - Creative Visualization


Latest Download Reccomendation - All New Search-It
Comments? Do you have a story you would like to see here?
Feedback? Let me have it, right between the eyes! I'd love to hear from you. Just reply to this zine and tell me what you think! Or you can use our contact us form here to send your comments.
Laughter has no foreign accent. -- Paul B Lowney
---
Nature Landscapes at Dawn And Dusk
Many photographers find that they produce dramatic and unusual landscape photographs during the twilight and sunrise hours. This period of the day sees amazing color in the sky, sharply drawn shadows and silhouettes and the angle of the sun, or the moon, casting unique light across a scene.
There are also moments outside of the dawn and dusk hours that many photographers refer to as having the same "sweet light" or the natural light as just before sunset, and immediately after sunrise. However this "sweet light" is usually only available during certain weather conditions when natural light is rapidly changing, giving an object or an entire scene a certain radiance or added dimension that are not normally present around it. For example, heavy black storm clouds in front of the camera lens, with intense sunshine coming from behind the photographer. This is a moment of "sweet light" and high photographic drama.
One of the primary reasons that a photographer will set out to capture landscapes at these extreme hours is because the unusual set or angle of the sun reveals unusual textures and formations to elements of a scene. The brilliant light of day may greatly illuminate a broad expanse of land and sky, but this may not produce an artistic or unique view of the scene, and the brilliance of the sun may wash out patterns, depth and characteristics to the landscape.
Early Morning And Evening Nature Landscapes to Enjoy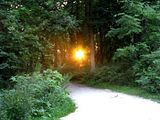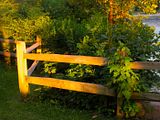 Notice how the sunlight shines on this last picture. I believe this is what Amy is talking about when she talks of the "sweet light". I have my puppy to thank for this beautiful shot. He insisted that we go in the truck on this particular evening. So we ventured to Herrick Forest Preserve and it turned out to be the perfect photo opportunity for sunset pictures.
Clicking on these thumbnails will open a larger picture in a new window. You can then download them to your own computer if you like.
If you would prefer reading the entire article covered in this series of tips, you can find it here.
See you next time when we explore Capturing Moving Water in Photography.
If you would prefer reading the entire article on this series of photo tips, you can find it here.
These tips are brought to you in partnership with Amy Renfrey. Amy is the author of Powerful Landscape Photography. It is a book that is one of my top picks for learning photography.
---
Wisdom Flash -Shakti Gawain, Creative Visualization
Shakti Gawain is a best selling author and a pioneer in the field of personal growth and consciousness. Her many books have sold more than six million copies in thirty languages worldwide.
This is a quote from Shakti's bio page. You can read more about this fascinating woman by clicking on her name at the wisdom flash site.
But first enjoy this lovely music video. It is packed full of beautiful flowers nature and affirmations to aid you in your own powerful creative visualizations.
Creative Visualization (opens in new window)
---
What's New at Nature and Flower Pictures
I've added two new sections to the site this week.
Photo to Art Enjoy the many adventures available to you for turning your favorite photos into art. You will learn how to dabble in the digital art realm. Save some of those photos that you thought you couldn't use. Decorate your walls with beautiful nature and flower art that you create or pick from some favorites that are ready to hang.
Pictures of Natures is more than just an extention to the nature pictures section. Visit nature from a whole new perspective. Get tips for taking better digital photographs or creating wildlife art prints and more.
Check Out Search It! The Only Business Tool That Keeps On Giving

Have you seen Search It lately? SearchIt! is the only tool you will ever need to research any business online.
If you are thinking about building an online business use this tool to develop the perfect domain name, find the perfect niche for you. Use it to check out the competition. Do you have an idea that you think you would like to promote into a business. Use Search It! to do your market research. Knowledge is power, especially in business. Whether you are looking to be online or even just want help with your current offline business, this is the tool that will keep you up to date and on the right path to success. And best of all its f.ree
---
Copyright © 2005 - 2008 by Sally Stoneking, All rights reserved.
This publication is for informational purposes only.