Butterfly Messengers
by Myrna Engel
(Cape Town, South Africa )
Enjoy this beautiful story of butterfly messengers. Butterflies have a way of touching everyone's lives. Myrna shares her uplifting story of the messages she has received...


I have always liked butterflies, mostly in the form of jewelery e.g. brooches, pendants and earrings and I would generally keep it personal, so as not to impose my 'fetish' on the men in my life - my husband and two sons.
My love for the 'flutterby' insects took on a new meaning, when after a spiritual growth program, I committed my life to Christ and my life has never been the same again. "Therefore, if anyone is in Christ, he is a new creation; the old has gone, the new has come!" 2 Cor 5:17
I used to be prone to 'depression' kind of moods (as a result of a personal issue I was struggling with). Once while feeling really down and not in the mood for anything, I was encouraged by my husband, Richard, to attend a Church related workshop we had committed to, despite my 'dark mood.' He (Richard) believes that when we're down, the best place to be is in God's presence.
So that is how I ended up in Christ Church, Constantia and it was there that God "spoke" to me for the first time by using butterflies.
Even though I had started to feel better, the 'heaviness' was still with me when I went up to the
altar rail for communion. It was then that I looked straight into a porthole window with yes, beautiful butterflies in stained glass.
The amazing thing was that I was kneeling right opposite the window and the sun was shining through at that very moment. It felt like God was saying to me, "It's going to be okay."
Butterfly Messages
Since then, I've received many 'messages' where there was always a butterfly.
One such message appeared in a very strange way, I think the most incredible of all!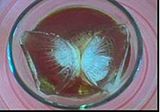 I was having problems at work and was receiving counseling at the time. It was during this time, when I was at home one day, feeling pretty low. I poured juice into a glass with some ice cubes and while the ice was settling, I heard a "plopping" sound. When I looked into the glass there was the most amazing thing.
Again it felt like God saying "It's going to be okay."
My problem at the office was amicably resolved. Once again, a confirmation to me, that our God is always faithful. He promises never to leave us, nor forsake us. Hebrews 13:5
The next is the latest addition to my "messengers" from God.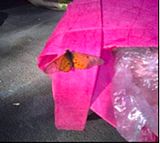 This butterfly just settled on my bag and stayed there, even when I carried the bag indoors. It eventually stayed there and before I could release it the next morning it died (I trust - after having served it's purpose.)