Karin Kalabra, Photo Artist
by Karin Kalabra
(Woodstock, NY)
Karin is the kind of artist who takes her art very seriously...Not! She is a fun loving character who has a true eye for inspirational art. I met Karin while co-hosting a teleseminar series about ancient wisdom, modern miracles.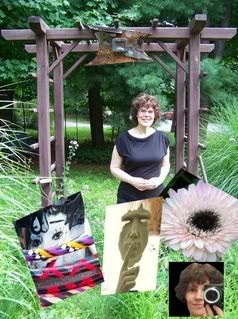 She was as excited as a child when she discovered I was an photographer just like her. We became instant friends and I nudged her to put her work online. Together we've created a showcase of
inspirational heart photography
that speaks from her soul to yours.
My motto is: Let the beauty you love be what you do. Taking photos is my passion! My camera travels with me wherever I go. My eyes steadily wander seeking the next thrill - a simple pleasure - the next picture!
I shoot quickly capturing my own sense of simplicity and composition. Later: a quick touch up adjusting contrast and color on my computer.
As a photo-artist, time ceases as I follow my heart. My eyes remain alert, mind open, focused, camera in tow - always anticipating the appearance of the next unexpected gift.
Karin Kalabra attended School of Visual Arts in New York City for film. Then she earned her BSA in art through independent study at Empire State College. She holds additional degrees in naturopathy & nutrition from the Clayton College of Natural Health specializing in coping skills from a practical, spiritual viewpoint.
As a self taught photo-artist, Karin utilizes her background in art & healing to create her unique photos taken in her deer-proof garden and in the Catskill Mountains of New York.
You can see Karin's work in these galleries
Galleries
WAAM
Woodstock Artists Association & Museum
28 Tinker St.
Woodstock, NY
845-679-8144
Cornell Street Studios
168 Cornell St.
Kngston, NY
845-331-0191
Art Upstairs
60 Main St.
Phoenicia, NY
845-688-2142
Karin offers signed originals on request and you can contact her through her website. Visit
Karin's Gallery
to purchase photo art prints. Or to purchase her photo prints on canvas and even greeting cards visit
Karin's Fine Art Gallery
.